FLOOR-MOUNTED AIR CONDITIONERS
A MULTIFUNCTION / MULTI-PRODUCT CONCEPT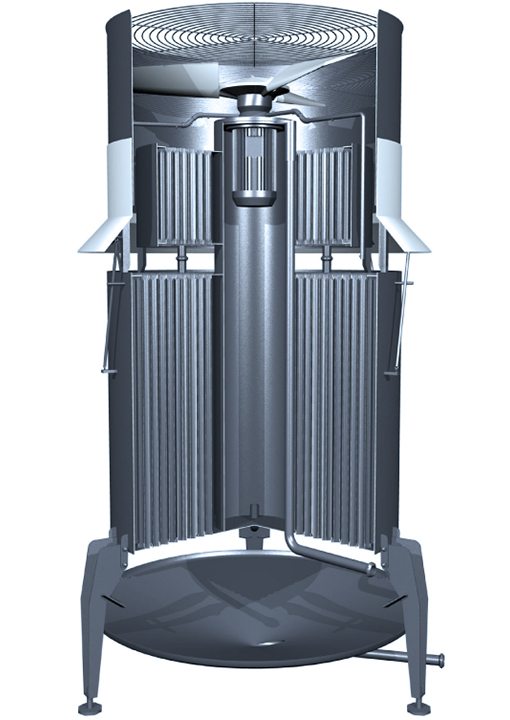 In order to adapt to the changing needs of our clients' production, our floor-mounted conditioners are equipped with a bypass system enabling the specific management of air handling in rooms and control of the results thanks to the variation in the mixed air flow.

In cheese production for example, the concept of flexibility can be pushed to the extreme with a proportioning of the air conditioner adapted to the phases of draining, maturing, drying and cooling prior to wrapping.

If you plan to put in place multifunction rooms or mixed cellars, our floor-mounted conditioners fit your needs perfectly.

Our floor-mounted air conditioners provide:
A result with maximum homogeneity
The air handling (direct blow or via fabric ducting), with central positioning of the air conditioner (to be favoured to halve the distance to cover through the air to the intake), is done specifically in line with the configuration of the room and provides the optimum result in terms of homogeneity.
The distribution of air in the upper section is controlled via high infusion perforated fabric ducting or a dome or via direct blowing.
The 360° air intake at low speed in the lower section enables a mixture of air to be 'forced out' throughout the top of your room.
A very small footprint
The placing of the air conditioner is defined according to your process or loading and not the reverse.
The placing of the air conditioner is defined according to your process or loading and not the reverse.
Easily movable
In the event that your factory is refitted, the floor-mounted conditioners can be easily moved.


Our supply of floor-mounted air conditioners comprises:
a convertible air conditioner specific to the air handling for your ultra-sensitive production, proportioned according to the volume of your rooms and able to be adapted to the changing needs of your installations.
a simplified convertible air conditioner which particularly suits premises with less of a health risk or those washed down daily with a foam gun. This device is a high quality, economical alternative to our traditional "convertible" conditioners. It may cost 30% less according to the model.