TECHNOLOGY
INNOVATION THAT CHANGES EVERYTHING

The passage of the air inside the tubes is done in turbulent mode. As a result, our air conditioners are the only such devices to obtain close to 100% humidity in relation to the air when blowing.
A ventilator is incorporated above the tubes. It is activated by a motor with an electronic speed variator. The latter is housed in the centre of the heat exchanger in an airtight enclosure circulating in and cooled by the cold water surrounding it.
The cold water supply (water glycol or iced water) comes from an external refrigeration unit and the hot water supply is achieved through integrated electrical resistances or via the exchanger included in the conditioner.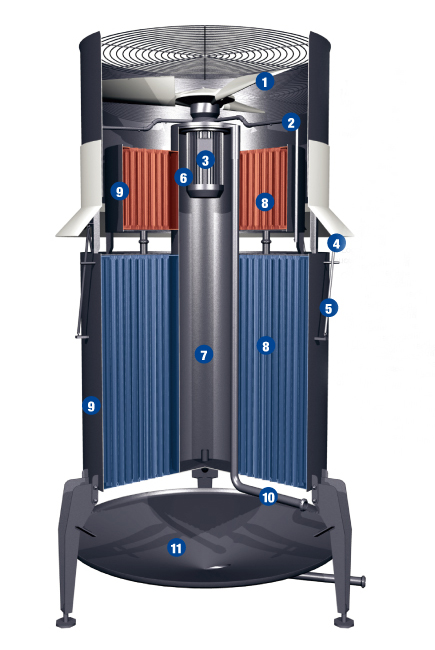 Technical specifications for the floor-mounted conditioner
Plastic suction fan / cheese distribution.
Rotating horizontal and vertical spray arm in place (CIP) for all the interior of the conditioner (fan included) with 100% efficiency validated by a swab test.
Variable speed fan drive motor.
Opening (bypass) increasing the overall volume of mixed and reheated air without passing through the cold exchanger.
Manual on / off lever on the bypass.
Airtight motor housing (no contact with the air flow).
Motor's ventilation chamber and cooling chamber.
Batteries from the hot and cold exchanger made in line with the main patent: air circulation inside smooth stainless steel tubes surrounded with cold or hot water.
Watertight stainless steel exchanger jacket.
Supply tube for the spray arm.
Conical base for recovery and evacuation of condensate, contaminant particles, rinsing water, disinfection and rinsing.

Operation
The components of the air conditioner handle a certain volume of air to reach the necessary temperature, hygrometry and speed.
Ventilation: the air passes inside the tubes sucked up by the fan, which then powers it in the premises.
Cooling: in contact with the internal exchange surface, the air is cooled and dehumidified to varying degrees.
Condensation: the condensed water inside the cold tubes uses gravity to flow into the conical base positioned under the heat exchanger and is instantly evacuated outside the premises.
Decontamination: up to 20% of contaminant particles are trapped inside the tubes and evacuated with the condensates.
Warming up: if the conditioner also features a drying function, the air passes through the tubes of the integrated heat exchanger and heats up on contact.
Humidification: a system of humidisonic nozzles (water + compressed air) is integrated into the device. It turns the water into a mist of microscopic droplets, which are homogenised with the blown air circulating round it and can supersaturate it.
Regulation: the device is equipped with a high-precision patented psychrometer. It measures and maintains temperature variations and precisely regulates the relative humidity, including the saturation values.
Direct diffusion or diffusion through fabric ducting: the 'ceiling-mounted' conditioners and some conditioners 'on feet' blow air using their incorporated plenums. The conditioners 'on feet' are equipped with hardwearing, light and washable synthetic domes and ducting.